Matthews, Bowtech, and Hoyt
Legends of Fall Outfitters is an authorized dealer and service center for these manufacturers. This is important at times when critical parts need to be shipped to us over night and you need to get into the field or competition. We work hands on with these fine archery bows every single day. Our shop also sees everything from Oneida to Buckmasters to Mathews for set up and repair. We're able to do this because we've established relationships in a 100 mile wide dealer network around our shop. In short, we can usually get parts and repair just about any bow.

Lone Wolf Treestands
We were one of the first in the country to carry these stands! If you aren't familiar with Lone Wolf check out this review!

Accessories
We carry various products from Vibracheck, Sims, Scott, Tru-Ball, NAP, Grim Reaper, Thermacell, Toxonics, Copper John, Trophy Ridge, HHA, Carolina Archery Products, Primos, Woodswise, River Valley Game Calls, Carbon Express, Double Bull, Vanguard, Morrell, Rivers Edge Treestands, Gobbler Guillotine, Alpine Soft Loc Quivers, AMS Bowfishing, Stearns "Mad Dog" Boots, EW Bateman, Montec, Steel Force and Muzzy and we're stocking over $6,000 in pre-stretched Stone Mountain bow strings! If we don't have it, we can get anything you could possibly ever want within 48 hours!

Custom Arrows
Production arrows direct from Easton are competitively priced and readily available.

You need arrows? Legends of Fall Outfitters has arrows! This facet of our business is very strong and steady. We do arrows! Needless to say we have seen every combination of fletching, nock and shaft combination known to man! Melissa Bordwell assembles our arrows. You won't find a better arrow anywhere else. We guarantee our fletches will stay on!

Hunting Apparel
We carry Hunting Apparel and Boots by Stearns, Whitewater Outdoors, Scent Blocker and Muck Boots.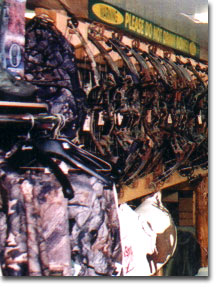 Pro Shop
Jeff Bordwell has 22 years of experience in professional set up and repair experience. Legends of Fall Outfitters has invested over $33,000 dollars invested in state of the art equipment. Spot Hogg's Hooter Shooter, Apple bow presses specifically designed for work on parallel limb bows, Intercomp Model CS200 digital electronic scale for accurate measurement of bow poundage accurate to 1/10th of a pound, high speed arrow saws, 48 slot capacity Bitzenburger Dial-O-Fletch jigs (this means consistency every arrow, every time), cam timing and draw weight checking apparatus and the best chronograph money can buy, a Speed Tac chronograph. We put this equipment through a workout every single day and ready to professionally set up your bow at the hands of Jeff!

Youth Leagues
As in any sport, unless you have young people getting involved eventually things get stale. Legends of Fall conducts annual youth programs with over 115 youngsters ages 5 to 15. 20 kids per line with 2 instructors is the general set up. The purpose of the program is to introduce kids to archery, to grow our business and to create a fun atmosphere in which to learn.

Pure Fun League $6.00 per child
Kids who are beginner's to archery mix in with more experienced kids for the pure fun of enjoying each other's company and learning the fundamental's of safety. The program is designed around pure fun, non-competitive events like balloon popping, paper animal target shooting and halfway through the program if the kids are interested they are invited to friendly competition. The emphasis is pure fun in this league!
At the end of the league we host a pizza party and all kids get a participation trophy at no additional cost.

Competitive Kid's League $7.00 per child
Kids from the Pure Fun league that want to are invited to join this league which focuses on refining archery skills, proficiency, concentration and ability to compete. All competition is based solely on age and ability. Two person teams are selected and shoot from either 10 or 20 yards. We pair teams to prevent dominance and to encourage team mates to help one another. This is run Thursday's from 3-5:00 p.m. and Saturday afternoons from 2-4:00 p.m.
Trophies are given for 1st , 2nd and 3rd place teams, most improved, high scratch average 1st , 2nd and 3rd place 20 yards, high scratch average 1st , 2nd and 3rd place 10 yards and everyone else gets a participation trophy.